Start to Finish: Restoration and Construction Services Offered by SERVPRO of Milford-Orange-Stratford
5/7/2019 (Permalink)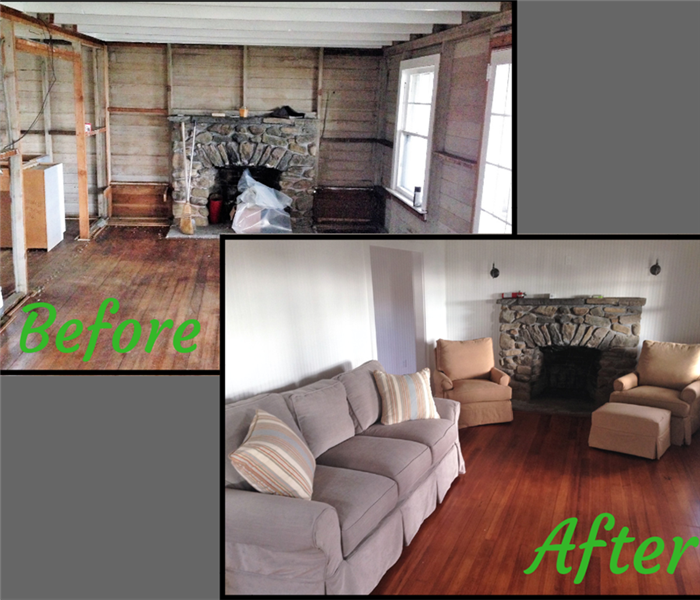 After this home was damaged by fire, our building services team rebuilt the interior- including installing new floors and walls.
Dealing with water or fire damage in your home is a stressful experience. Choosing who to trust in the restoration and reconstruction of your home shouldn't be.
The job of a restoration company is to clean up the mess and to preserve and protect the home and its contents so that further damage will not occur. A water damage restoration company removes the water and damaged materials from your structure. We remove the excess moisture in the building so that there is no risk of mold or mildew growth.
When the structure is dried out, it is then ready for reconstruction. After a flood or fire, your home may require the replacement of drywall, a new roof installed, new flooring or even a complete rebuild. The last thing you want to do after experiencing a disaster is deal with multiple contractors in your home and the additional coordination and organization that takes.
SERVPRO of Milford-Orange-Stratford is unique in that in addition to being a restoration company, we also have a CT licensed building services crew as part of our team.
When your home is dried out, our construction crew will step in and finish the work. Instead of our customers having to juggle multiple contractors, our office coordinates the process from start to finish. Our staff acts as the 'middle man' in coordinating the work, filing insurance paperwork and communicating with you, our customer.
At SERVPRO of Milford-Orange-Stratford, we offer full contractor services for all of your home repairs needs. For over a decade, we have been ready 24/7 to respond to the emergency fire and water restoration needs of Connecticut residents. Please take a look at our work to see how we have helped other home and business owners in New Haven County.
It's our priority to provide the best restoration and remodeling services to our customers.
Call us at (203) 301-0500 to discuss your restoration and construction needs.