Sewage Clean Up at Milford Commercial Properties
5/31/2022 (Permalink)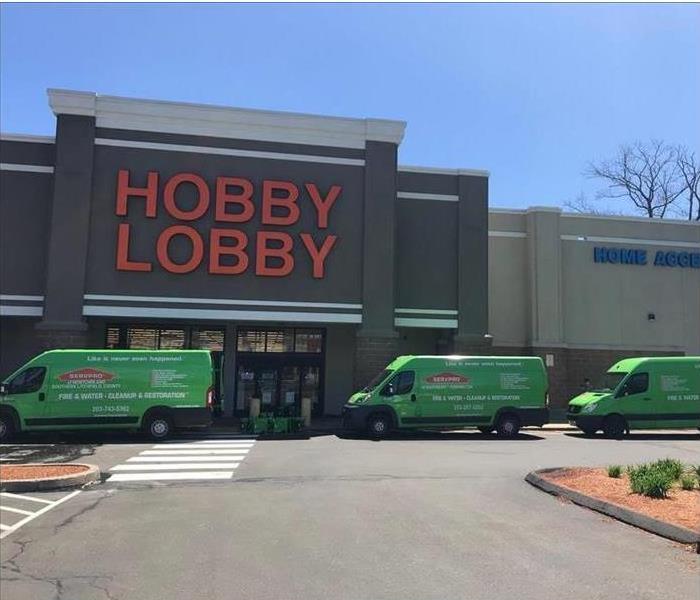 Sewage backups are a literal mess and when you are a business owner, the call can come at any time.
Whether you own a restaurant and your public toilet has overflowed during the dinner rush or your retail business has a sewage flood that is quickly spreading on the carpeting, it's a call that you don't want to receive.
Toilet overflows and sewage backups are not an ordinary water damage event. Sewage is contaminated and the flooding caused can damage your commercial building and its contents as well as create a risk of disease. Knowing the causes, the preventative actions that can be taken and having a plan of action in place can help business owners reduce the extent of the damage to their building.
What causes a sewer backup?
Most often, sewage backups are caused by a blockage in the lateral line from your building to the main sewer. This can be caused by tree roots that damage pipes as well as debris that has clogged up the lines. Damage to your lines can also occur due to aging pipes that develop cracks. Even driving heavy equipment such as a moving truck across the lawn can damage the pipes buried there.
Most sewage backups that occur due to blocked pipe occur over time, so there are some strategies that a business owner can take to reduce the chance of this happening.
You already know that a good plumber is essential to protecting your structure. Have your plumber conduct an annual inspection with the purpose of identifying potential problems before the pipes are completely blocked and flooding has occurred.
Follow your plumbers advice as to whether a water pressure reducing valve or a pop-up sewer release valve might protect your property in the case of a sewage backup.
Steps to Take if You Have a Sewage Backup
Our commercial property customers know to call us immediately upon the discovery of any water damage but this is even more important in the case of sewage flooding. Contaminated water may cause health effects and as it quickly makes it way into walls and flooring, the danger spreads.
It is essential that your employees do not clean up a sewage backup themselves. They can actually make the situation more dangerous and put themselves at risk. We recommend that the area is evacuated until the SERVPRO of Milford- Orange-Stratford restoration crew is on the scene to assess the damage and immediately begin the restoration process.
Our team is trained in how to execute a professional and efficient sewage damage restoration plan. We will remove not only the sewage, but also properly remove damaged materials and sanitize your structure and restore contents. One of the worst parts of a septic backup is the smell. Our team uses odor removal equipment to get rid of the stench left behind.
If you are not already familiar with the services that we offer commercial properties, give our office a call at (203) 301-0500 to see how we can help you protect your business from damage.